I make grammatical mistakes all the time b/c I'm only human, ryte?
So, I don't want this to come off as preachy or anything - God knows I can't stand people like that.
::runs for cover::
Please, for the love of God, when you're trying to make a point that there's no way to care less about a situation, please say "couldn't care less" and not "could care less."
For example:
"I couldn't care less that Specter has decided to switch political parties."
By saying, "I could care less that Specter..." you are implying that there are additional opportunities to care less which ultimately defeats the purpose of your sentence.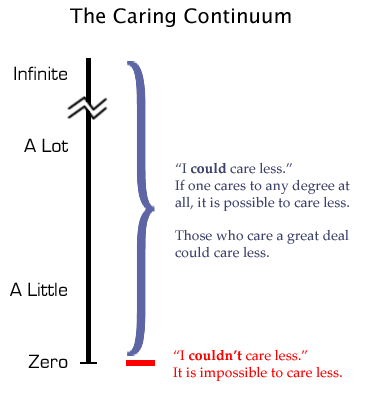 This is a big pet peeve of mine, and I just noticed it while reading something.
What're your grammatical pet peeves?
(I'm uber paranoid that there are multiple grammatical errors in this post now. If so, I love you - don't be mean.)